KBarcode hoort bij de KDE programma's (KDE 3.x) en kan je installeren uit je software-installatie, bv Yast2, Software Management in opensuse. Als het niet voorkomt in de gewone bronnen, kies je in Yast2 PackageSearch (webpin), zoek "KBarcode", voeg toe of bevestig. Ook in KDE4 kan je het nog na-installeren. Het programma komt terecht in het menu Utilities / Printing. Je kan meer labels op één blad drukken op je gewone printer.
De "Barcode Generator" laat toe een nummer in te voeren, en tekent de bijhorende barcode. Als je het controlegetal (laatste cijfer) niet bij ingeeft, wordt het berekend. Je kan het resultaat gebruiken om te printen of om te bewaren als beeld (knop "save", kies formaat, bv "png").
Opstarten KBarcode:
Als je voor de eerste keer start worden de gegevens van de database (server) gevraagd; als je die niet hebt kan je dat ook overslaan. Daarna krijg je knoppen voor de verschillende onderdelen van het programma: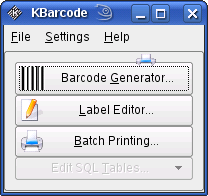 Kies in de "label editor" een label, bv 3 X 7 op A4 blad, en bewaar: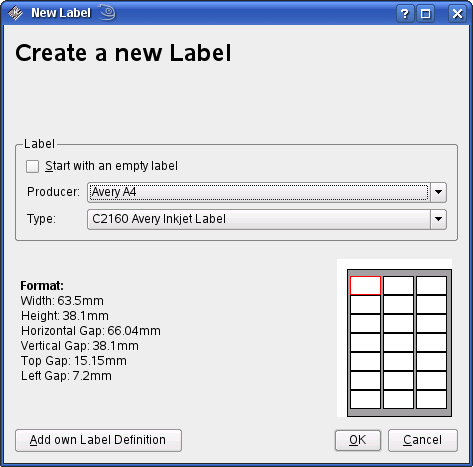 Maak een reeks opeenvolgende barcodes (opeenvolgende artikelnummers – het leveranciersnummer is vast, hier 123456789):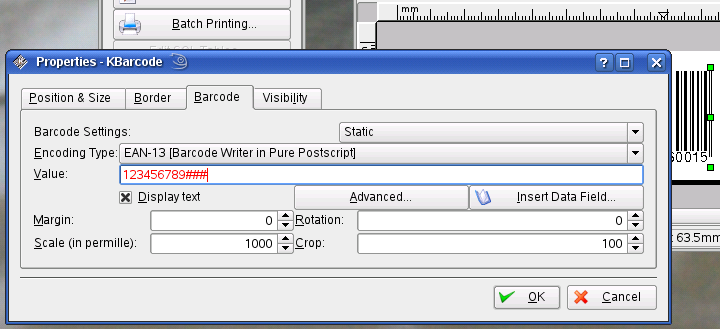 Aantal te printen labels over alle blz totaal: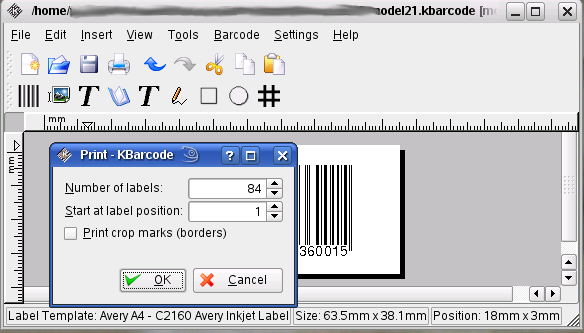 En printen: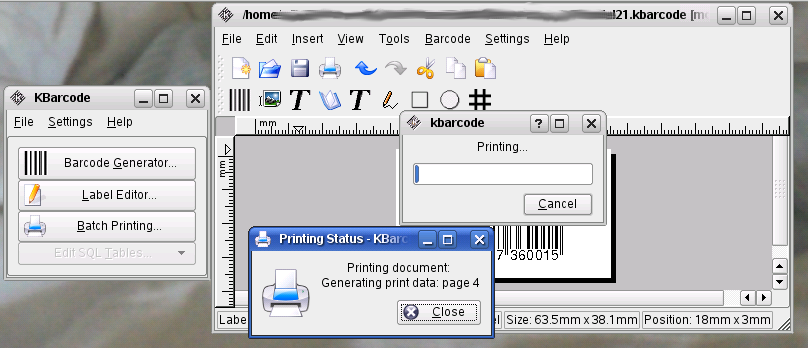 Label Editor:
Een extra tekst bij op het barcodelabel zetten geeft een probleem in KBarcode 2.0.6: die wordt veel te klein en dus onleesbaar afgedrukt (niet zichtbaar in het ontwerp scherm, wel zichtbaar op de print preview). Oudere versie werkt het wel, in de (laatste) 2.0.7 werkt het ook terug.
Reacties uitgeschakeld

voor Barcodes printen uit KDE