Upgrade (poging)
Ik moet toegeven dat deze upgrade mislukt is, door te weinig geheugen, of misschien ook wel door te weinig plaats op de harde schijf (er was een root + home partitie, dus ik vermoed te weinig plaats op root). Detail zie onderaan "Upgrade Log". Daarna is het op een andere manier wel gelukt.
upd: nadien vond ik de beschrijving van een probleem met 13.2:
Install the current online updates of the old distribution, if any. (Mostly needed for openSUSE 13.2 to fix a kernel issue during migration. On 13.2 also reboot the machine before proceeding.)
Conclusie
De beste manier (en eigenlijk ook door Suse aangeraden), is het downloaden van de meest recente versie, in de vorm van een ISO, die je op CD brandt (kan gemakkelijk met de net-install – die is maar 92 MB). Installeer daarna van de CD.
Dat verloopt normaal en geeft bv een versie
20151111 kernel 4.3.0-7-default
Tumbleweed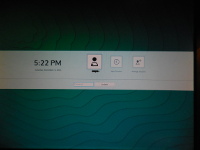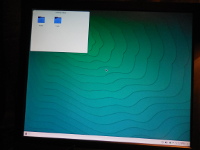 Tumbleweed ziet er goed uit, met een duidelijkere software-update melding, een beter KDE startmenu, en een sobere desktop. En natuurlijk een zeer groot aanbod van software; naast bekenden als Firefox, LibreOffice, Gimp, enz, ook een werkende versie van Gambas 2 (2.24). Dit is verrassend want het is niet meer even vanzelfsprekend om deze oudere versie nog draaidende te krijgen op recente distributies, en dit zorgt voor meer continuiteit voor die bestaande Gambas 2 projecten.

Hapering
Verwonderlijk is dan wel dat Gambas 3 na een ergens haperende update niet meer start. ("gbx3: unable to find startup file") Aangezien deze Gambas nog volop in ontwikkeling is verwachten we dat het snel hersteld wordt, in een van de volgende upgrades.
Update 22/11:
gemakkelijk te omzeilen: gebruik de munix repository: software.opensuse.org/download?project=home:munix9&package=gambas3
Die installeert momenteel gambas 3.8.3-1.3-x86_64 (in mijn geval).
Tip
Als de upgrades uit de desktop eens niet werken (bv omdat je nergens de mogelijkheid krijgt om een licentie te bevestigen van bv flash player software) kan je in een terminal naar root niveau gaan met su, wachtwoord ingeven, en start de zypper tool met "zypper update". Dan krijg je de vragen in tekst, en kan je daar bevestigen, en er wel door geraken.

Upgrade Log (Tumbleweed vanuit 13.2):
(meer…)
Reacties uitgeschakeld

voor OpenSuse Tumbleweed (vanuit 13.2, niet dus)