Toevallige toetsencombinatie
Midden in een of andere complexe installatie zit ik heen en weer te swappen tussen verschillende vensters en schermen (ALT-TAB of CTRL-F1, CTRL-F2, ..), commando's te tikken in een Kde Konsole, ondertussen de evolutie van downloads en installatie-stappen volgend op schermen die onder een ander scherm zijdelings uitkijken. In mijn snelle getik gebeurt er dan plots iets vervelends; mijn scherm verspringt iets, en als ik met de muis een ander venster selecteer, schuift mijn hele desktop mee op naar rechts (of links al naargelang). Het lijkt wel of ik terecht ben gekomen in een "Virtuele Desktop", wat ik me herinnner ooit gehad te hebben: je stelt een desktop in die bv 2x zo breed is als je scherm. Als je buiten de rand van je scherm gaat, schuift de desktop op in die richting. Ik heb geen idee welke toetsencombinatie ik geraakt zou kunnen hebben, en nog minder hoe ik dat terug ongedaan maak. Het scherm schuift trouwens ook op naar boven.
KDE Magnifier
Ik zoek wat rond, en vraag me af of KDE Magnify misschien aanstaat. In de KDE instellingen check ik dat:
In het menu "Configure Desktop", Workspace Appearance and Behaviour, Desktop Effects
Kies Tab All Effects, en daar Accessibility, Magnifier.
Die staat uitgevinkt.
Ik kijk nog wat rond, en een beetje lager staat bv "Zoom".
Inzoomen in KDE
Zoom staat aangevinkt, en onder de sleutel vind je meer instellingsdetails:
Zoom factor: 1.20
Mouse Pointer: scale
Mouse Tracking: proportional
…
en eronder een tabel met Action en Global shortcut.
Daarin staat de oplossing:
Meta + : zoemt in
Meta – : zoemt terug uit
(KDE 4.10.1)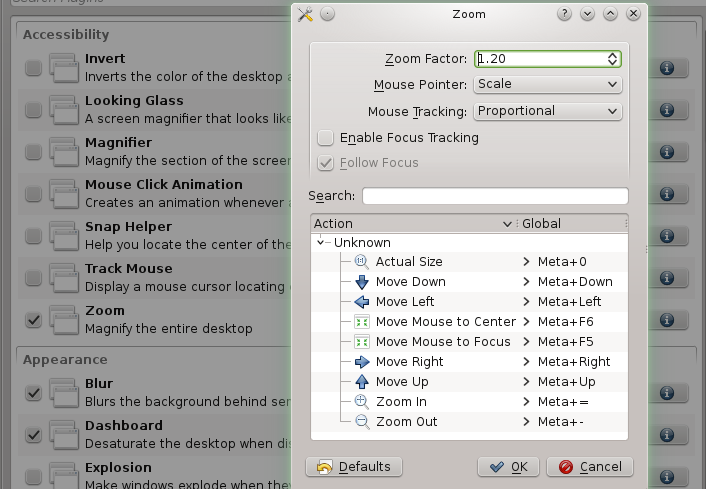 Meer toetsencombinaties:
http://en.wikipedia.org/wiki/Table_of_keyboard_shortcuts
Reacties uitgeschakeld

voor KDE 4: Desktop verschuift (is groter dan scherm)