De nieuwe PhpMyAdmin gaat ongelooflijke verspilzuchtig om met schermoppervlakte:
De grafische interface mag niet in de weg zitten om je werk te doen. En bij een database is dat niet gemakkelijk: enerzijds wil je zoveel mogelijk data zien als je aan het werken bent (kolommen), en anderzijds wil je de bediening zo dichtbij mogelijk (iconen).
Vroeger zag dat er zo uit: je kreeg een rij met gegevens, en achteraan had je iconen voor edit/delete/… (wijzig/wis/…).

Ondertussen staan de iconen vooraan, en (voor de gebruiksvriendelijkheid -sic) staat erbij wat de iconen betekenen: Edit, Inline Edit, Copy, Delete.
Een icoon waar een tekst bijmoet om uit te leggen wat het icoon betekent, lijkt me een overbodig element; je ziet ook hoe irritant veel plaats het inneemt om op elke rij telkens dezelfde iconen te verklaren.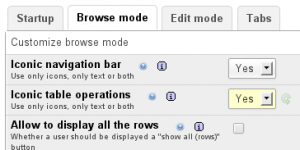 Gelukkig zijn er instellingen: klik op linksboven "localhost" (ik ga er van uit dat de database op de webserver staat) of rechts in het tabblad "more", "Settings". Je krijgt "General Settings", "Appearance Settings" en een hoop informatie over de webserver, mysql en phpMyAdmin.
Kies tab "Browse mode"; "Iconic table operations :Use only icons, only text or both" staat op "both"! Zet op icons. Bewaar. Dit levert al heel wat schermwinst op.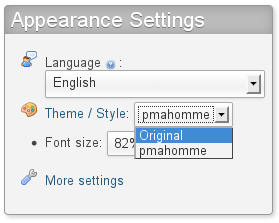 Maar omdat er met themes gewerkt wordt, kan je ook nog een andere ingreep doen: zoek naar een theme dat zuiniger is met schermoppervlakte. Je kan themes downloaden, en in de themes direcotory van phpMyAdmin zetten. In de instellingen kan je het theme kiezen.
Lees ook de meldingen; nu doe je een tijdelijke instelling:
Configuration has been saved.
Your preferences will be saved for current session only. Storing them permanently requires phpMyAdmin configuration storage.
Als je die eigen phpMyAdmin opslag niet wil voorzien kan je het configuratiebestand aanpassen (later meer).
Reacties uitgeschakeld

voor PhpMyAdmin: onhandig schermgebruik