Je kan een printer installeren via het configuratiesysteem van je distributie, bv in OpenSuse via Yast, of via de grafische desktopinterface, bv in KDE het Control Centre/peripherals/printers. Een andere (minder distributie-afhankelijke) manier om printers te installeren is via de interface van het "cups" systeem.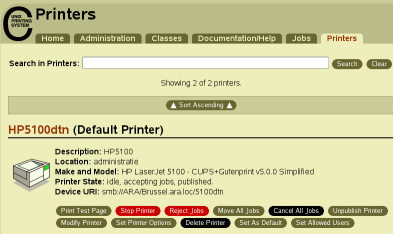 Die kan je bereiken door een browser te openen op "http://localhost:631/printers/"
Om een printer bij te installeren werd me daar user/password gevraagd (van root).
Alles verloopt via een webinterface; je hebt geen "scan naar netwerk printers" en automatische configuratie daarvan. Er wordt stap na stap gewerkt en er worden uitgebreid voorbeelden getoond als je zelf iets moet invullen. Nadien kan je de printer ook terugvinden bij de geïnstalleerde printers in bv Yast.
Gebruik is eenvoudig via de web-interface; je kan er een testpagina afdrukken, de printer stoppen, jobs bekijken en veranderen of afbreken, opties van de printer instellen, en de printer als standaardprinter instellen. Ook de toegelaten gebruikers kan je instellen.
CUPS staat voor Common UNIX Printing System. De website is www.cups.org.
Reacties uitgeschakeld

voor Printer installeren: CUPS