Gambas 1
(zie ook het artikel over de huidige versie 2 van Gambas hier)
Gambas is ook in versie 1 nog te downloaden (momenteel aan versie 1.0.19) of is soms aanwezig in Linux distributies van die tijd (bv Suse 9.3: gambas 1.0.4). Meestal wordt aangeraden de meest recente versie te gebruiken. Ook bij versie 1 zijn er wat afhankelijkheden (dependencies); best vooraf aan voldoen. Ze staan beschreven in een bij de download bijgevoegde readme.
Versie 1 van Gambas is onmiddellijk te herkennen aan de "mascot", een zwevende blauwe gamba die aangeeft of het "uitvoeren" van een programma foutloos verloopt (duim), of bv een "syntax error" geeft, waarop de gamba zijn poot voor zijn ogen slaat.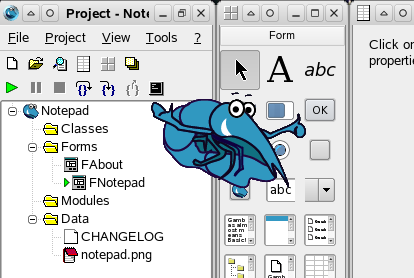 Eens geïnstalleerd vind je een aantal Gambas programmavoorbeelden:
Basic:
"collection": hierarchie, openklikbaar met [+]/[-]
"treeview" : hierarchie, child, click event, event-stack
"dragNdrop": grafische objecten naar een lijst slepen
"object": create, manipulate, delete object (tekst)
"timer": trigger-timer-reaction, start/stop, high/low time
Drawing:
"analogue watch": lopende klok
"clock": verschillende vormen van analoge klok instelbaar, verplaatsbaar, niet-venster object
"on screen display": digitale klok, transparant op scherm grote letters
Exec:
"console" voor eenvoudige commando's als ls, niet voor su en uitvoeren mcedit
Games:
RobotsFindsKitten: cursorbesturing in tekstscherm
Snake: langer wordende slang die appels moet "vangen" en zichzelf vastrijdt op kant of eigen lijf, met 3 menus en shortcut op eerste letter menukeuze.
Solitaire: verschillende borden,
Evaluator: formule (cosinus etc) laten berekenen, waarden en formule wijzigbaar
Explorer: file-explorer (anders dan de vaste Kde -filemanager.
Deze versie heb ik eigenlijk alleen geïnstalleerd omdat de "documentation" in versie 1 handiger is. Ze is te bereiken vanuit het help-menu en bevat een "help browser" met een "explore" (hierarchisch overzicht) en een zoek functie in tabblad "search". De help van versie twee is een statisch html bestand zonder zoek, die opent in Konqueror.
Op Suse 9.3 met QT 3.3.4-11.8, gcc 3.3.5-5 verliep de installatie zo:

Bij Suse 9.3 zit Gambas bijgeleverd, maar de installatie hieronder is met de download versie.
To compile Gambas, you must install the following packages on your system :
– The X11 development packages:
xorg-x11-devel – Include Files and Libraries mandatory for Development : was ok
– The Qt 3 development packages.
qt3-devel – Include Files and Libraries mandatory for Development : was ok
– The KDE 3 development packages if you want to compile the KDE component.
kdevelop3 – Integrated Development Environment for the X Window System, Qt, KDE, and Gnome:
* Bijgeinstalleerd.
* met 11 Automatic Changes van Yast (dependencies)
– The PostgreSQL, MySQL or SQlite development packages if you want to compile
database drivers. :
* Bijgeinstalleerd MySQL devel (maar geen andere)
– The libcurl development packages (version 7.10.7 or greater) if you want to
compile de network-curl component.
Niet duidelijk; er is al :
compat-curl2 – Curl compatibility library
"Curl is a client to get documents and files from or send documents to a server using any of the supported protocols (HTTP, HTTPS, FTP, GOPHER, DICT, TELNET, LDAP, or FILE). This package contains an older version of the curl library for binary compatibility with old binaries."
En iets met curl-php4, niet curl-php5
– The SDL and SDL_mixer development packages if you want to compile the SDL
component.
SDL en SDL_mixer waren er, maar SDL-devel toegevoegd, plus de automatisch toegevoegde andere sound devel packages.
Dan de download versie uitgepakt, gecompileerd en geinstalleerd:
* uitpakken:
bunzip2 ./gambas-1.0.19.tar.bz2
tar -xvf gambas-1.0.19.tar

* configure, make, make install: (# is de prompt)
# ./configure
Eerst weinig meldingen – en foutmelding, te weinig waarschijnlijk. Daarna uitgevoerd als root;
Heleboel meldingen – niet allemaal gelezen maar op eerste zicht niets onrustwekkends zien voorbijrollen
# make
Uitgevoerd als root; duurt wel even …
# make install
Hoop fouten tussen de meldingen toch:
gbc: ERROR: Cannot open file: /opt/gambas/share/gambas/info/gb.qt.kde.list
Compiling Automation/Scripting/…
gbc: ERROR: Cannot open file: /opt/gambas/share/gambas/info/gb.qt.kde.list
Compiling Basic/Blights/…

Compiling Database/DataReportExample/…
gbc: ERROR: Cannot open file: /opt/gambas/share/gambas/info/gb.qt.kde.list

gbc: ERROR: Cannot open file: /opt/gambas/share/gambas/info/gb.net.curl.list
Compiling Networking/HTTPPost/…
gbc: ERROR: Cannot open file: /opt/gambas/share/gambas/info/gb.net.curl.list

Compiling Networking/ServerSocket/…
gbc: ERROR: Cannot open file: /opt/gambas/share/gambas/info/gb.net.curl.list
Compiling Networking/UDPServerClient/…
OK
Compiling Networking/WebBrowser/…
gbc: ERROR: Cannot open file: /opt/gambas/share/gambas/info/gb.qt.kde.list
De omgeving start, maar er zijn wel enkele problemen als ik de voorbeelden uitprobeer:
automation, katebrowser, scripting; fout: missing gb.qt.kde
drawing, simpleimageviewer: file, open werkt niet; geeft geen files te zien
Games, "concent": geeft foutmelding: unknown symbol "button1" in class "fotos"
Reacties uitgeschakeld

voor Gambas RAD IDE: de eerste versie gepeld