"Time Tracker" is de term om op te zoeken als je een tijdsregistratie-programma wil. De eerste die opduiken zijn die voor Gnome, en één die op java werkt. Een beetje verder zoeken geeft ook een KDE-versie van een time tracker: "ktimetracker – Personal Time Tracker".
Op opensuse 11.3 bv in versie 4.4.9-2.3.1 opgenomen in de softwarebronnen, en dus te installeren via Yast:
Zoek, "time tracker", kies ktimetracker, bevestigen ("accept" of wat er ook staat naargelang je taalversie).
Het is een klein programma, dus installeert razendsnel. Daarna terug te vinden in je menu onder "recently installed programs"; ktimetracker start "Personal Time Tracker" als een kleine venster op je desktop.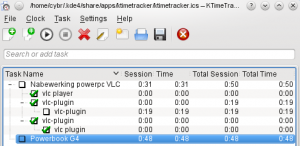 Je kan onmiddellijk aan de slag, geef een naam van de taak in en druk op > waarop de registratie begint.
Eigenaardigheid: als de desktop een tijd niet gebruikt wordt, bv omdat je op een andere computer bezig bent iets te installeren of op te zoeken, schijnt de timer in "pauze" te gaan. Na een uur werken had ik maar 45 minuten geregistreerd. Er stond ook een vraag op het scherm of de tijd moest doorlopen of stoppen.
Wil je dat niet dan moet je de "idle detection" afzetten"; Settings, Configure KTimeTracker, Detect desktop as idle after (… min): afvinken.
Ik was plotseling wel mijn taaklijnen kwijt, en ook bijgemaakte sub-taken werden niet zichtbaar, maar na het opnieuw starten van het programma stonden ze allemaal terug op het scherm (zoals je ziet).
Opgelet: Het afvinken van een taak is niet om de registratie op deze job te starten, maar om aan te geven dat deze taak beëndigd is!
Verder is er nog Linux desktop-spitstechnologie mogelijk als het verdelen van taken volgens desktop, en de timers de tijd laten registreren dat je op die desktop zit te werken; als je omschakelt schakelt de timer mee!
De opgeslagen gegevens kunnen bekeken en gewijzigd worden: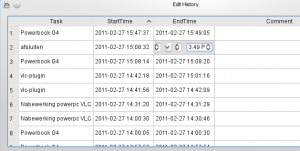 Het resultaat kan je exporteren, bv naar een csv file:
– Als "History"
"Task name",Sun Feb 27 2011
"Nabewerking powerpc VLC",0.51
"afsluiten",0.68
"vlc player",
"vlc-plugin",0.00
"vlc-plugin",0.32
"vlc-plugin",
"vlc plugin",
"Powerbook G4 ",0.83
of als tijden:
"Nabewerking powerpc VLC",,,0.52,0.52,1.50,1.50
,"afsluiten",,0.67,0.67,0.67,0.67
,"vlc player",,0.00,0.00,0.00,0.00
,"vlc-plugin",,0.00,0.00,0.32,0.32
,,"vlc-plugin",0.32,0.32,0.32,0.32
,"vlc-plugin",,0.00,0.00,0.00,0.00
,,"vlc plugin",0.00,0.00,0.00,0.00
"Powerbook G4 ",,,0.82,0.82,0.82,0.82
Reacties uitgeschakeld

voor Tijd registreren in KDE: Time tracker