Mijn rekenblad of spreadsheet zet getallen die ik zelf niet geschreven heb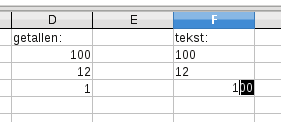 Automatisch aanvullen
Eens je in een cel 100 getikt hebt, en een cel lager begint met 1 te tikken, vult de cel automatisch aan met twee nullen tot 100. Als je na de 3 onmiddellijk enter gedaan hebt, kan je zonder het gezien te hebben 100 bevestigd hebben! Deze "hulp" heet "Autoinvoer", "Autocomplete", "Auto input" of "word completion", het is een suggestie van het programma, en het helpt je om vervelende dingen herhaald te moeten typen. Maar in een rekenblad met getallen is het vervelend tot en met gevaarlijk!
Cel formattering
Gelukkig doet het rekenblad dit niet bij getallen; maar wel bij tekst. De fout kan zich dus niet doorzetten via formules (tenzij je die op tekst laat werken).
Natuurlijk kan tekst ook een getal bevatten, of kan je een kolom in tekstformaat hebben staan, omdat je bv afmetingen of andere combinaties van cijfers al dan niet met letters ervoor gebruikt. Eigenlijk alle cellen waarmee je niet wil rekenen kunnen tekst zijn.
Afzetten
Je kan autocomplete afzetten in een van de menu's. Naargelang de versie van OpenOffice/LibreOffice en het systeem (Linux, Mac,..) kan het op verschillende plaatsen staan, een paar mogelijkheden:
Menu: Tools, Cell Contents, Autoinput (Linux/LibreOffice 3.4.2 – 4.1.6)
Menu: Extra, Celinhoud, Autoinvoer …(Mac/OOo 3.3)
…
Een zoek in de helpfunctie naar één van de bovenstaande termen helpt meestal ook wel op weg.
Reacties uitgeschakeld

voor Automatisch ingevuld (Autocomplete)