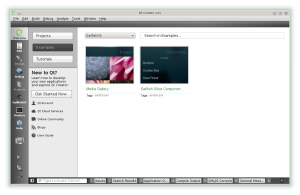 Een van de interessantste Linux Distributies van het moment is SailfishOS. Ze draait op smartphones en tablets, en wordt standaard geïnstalleerd op de toestellen van Jolla.
Behalve dat je er met een speciale "compatibility" app ook (de meeste) Android apps op kan draaien, geeft SailfishOS je ook een volledige programmeeromgeving om zelf apps te ontwikkelen. Die is gebaseerd op QT, en bestaat voor Linux en andere platformen.
Je hebt eerst een virtuele smartphone nodig bij de ontwikkelomgeving, om je programma's uit te proberen. Die kan je draaien dankzij een "Virtual Machine". De vrije virtualisatieomgeving die je daarvoor gebruikt is "VirtualBox" (www.virtualbox.org).
Verder dus de ontwikkelomgeving of Software Development Kit: sailfishos.org/develop.
Er is een versie voor 32 bit en 64 bit; test wat je systeem antwoordt op :
getconf LONG_BIT
in een terminal. Op een Pentium kan dat bv "32" zijn, op de meeste recente computers zal het "64" zijn.
Gedetailleerde instructies vind je op dit installatie-artikel.
Het resultaat van de download is bv volgend bestand in je home map onder Downloads:
SailfishOSSDK-Beta-1511-Qt5-linux-64-offline.run
Dit is een "installer", m.a.w. een installatie-programma. Om het uit te kunnen voeren moet je de rechten instellen (met een terminal, als gebruiker):
cd ~/Downloads
chmod +x SailfishOSSDK-Beta-1511-Qt5-linux-64-offline.run

Start daarna het installatieprogramma:

./SailfishOSSDK-Beta-1511-Qt5-linux-64-offline.run

en volg op de voorvermelde pagina onder "Common installation flow".
De schermafdrukken houden een aantal bevestigingen in:
Setup/Welcome .. (Next)
Kies een map om de installatie te doen, standaard komt hij in ~/SailfishOS
beschikbaarheid enkel onder je eigen gebruiker (Next)
Kiezen van de onderdelen; standaard laten staan als je genoeg ruimte hebt (Next)
aanvaard de licenties (LGPL GPLv3 enz, en een SailfishOS licentie) (I accept, Next)
"Ready to install", met een aanduiding van gebruikte ruimte, bv 3.64 GB (Install)
Installing SailfishOS SDK …. (Show Details geeft inzicht in wat allemaal gebeurt. Je ziet bv ook "MER Build Engine" voorbijkomen voor de compilatie van je code.)
Installation finished! (Next)
"Launch SailfishOS SDK now" staat aangevinkt, dus als je (Finish) klikt, start hij.
In je home directory komt dan deze struktuur: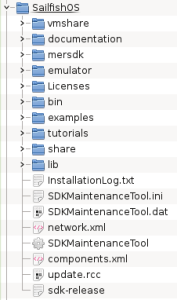 Het bestand sdk-release bevat bv:
SDK_RELEASE=1511
SDK_RELEASE_CYCLE=Beta
SDK_CONFIG_DIR=SailfishBeta7
SDK_VENDOR=Jolla
Je kan updaten via het KDE (classic) menu /Development/More Programs/SDK-Maintenance: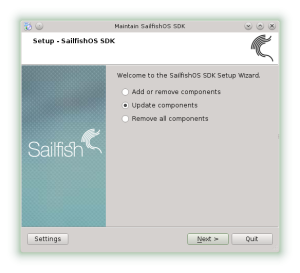 Later starten gaat met ~/SailfishOS/bin/qtcreator of via een menu of je desktop.
(in opensuse via klassiek menu: Development/Integrated Environment/SailfishOS IDE)
Wat er gebeurt is dat Qt Creator opengaat, en je daarin ook al een SailfishOS icoon ziet staan (beetje vergelijkbaar met Eclipse/Android).
Vanuit Qt Creator zal verbinding gemaakt worden naar de MER Build Engine en de emulator (Virtual Machine). (*)
Vanuit de Qt Creator kan je ook met een druk op de knop een RPM maken om je app te verspreiden.
De Sailfish developer site raadt dan aan "Your First App" te volgen.
Of kijke je liever een filmpje? https://www.youtube.com/watch?feature=player_embedded&v=z3hMGNwObx8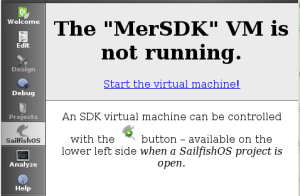 (*) Op opensuse (13.1 en tumbleweed) duikt momenteel een foutmelding op als je probeert de "mer" virtuele machine te starten. Er staat: "The MerSDK VM is not running", "Start the virtual machine!" (link) en als je ze start komt er een melding dat ze niet reageert ("The 'MerSDK' VM is not ready", en "The virtual machine is running but not responding"). Daarna terug de melding dat ze niet draait.
Upd:
Na een grote update krijg ik de melding: "You are not a member of the "vboxusers" group. Please add yourself to this group before starting VirtualBox. (…) "
Yast, Security and Users, User and Group management: Kies gebruiker, edit/details; Additional groups: "vboxusers" aanklikken. Daarna staat in het overzicht in de kolom Groups bv "users, vboxusers". Bevestigen/Yast afsluiten, gebruiker uitloggen en terug inloggen.
Upd:
Yast, Software, Virtualbox-Qt component geselecteerd
Reacties uitgeschakeld

voor Sailfish OS programmeeromgeving (installeren)