Lint zou iets betekenen als de chaos in je bestandssysteem: bestanden die dubbel voorkomen in verschillende mappen, bestanden die met een licht andere naam eigenlijk hetzelfde bieden (bv een bestand twee keer gedownload bestaat met downloadnaam.txt en downloadnaam(2).txt.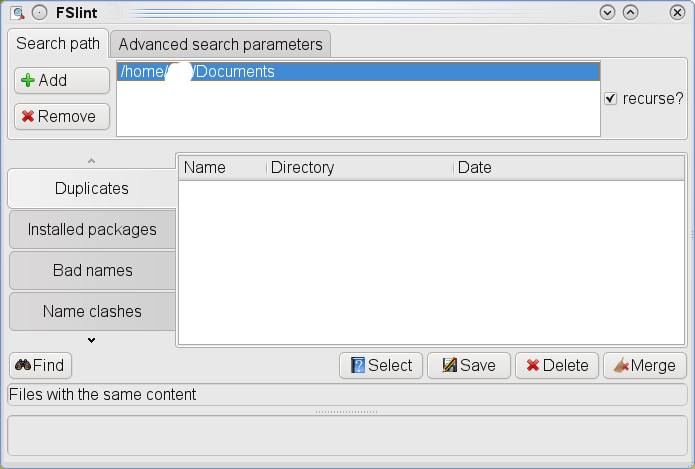 Beslissen moet je zelf, maar FSlint kan "verdachte" voorkomens aanbieden.
Om een paar voorbeelden te geven:
Lenny Kravitz of Kravitz, Lenny
Bowie, David Bowie
Rolling Stones, The Rolling Stones
Bob Marley & the Wailers, Bob Marley, Bob Marley + Wailers
My Song, My Song (live)
Je kan links met knoppen de vorm van vergelijken kiezen: exacte duplicaten, gelijkende bestandsnamen, lege mappen, enz.
Rechts komen de resultaten. Wat FSlint als "gelijkaardige" bestanden beschouwt, toont hij in een "groep". Binnen die groep kan je dan dubbels uitwieden, kiezen welke van de verschillende opnames je wilt behouden, enz. Zet meer details zichtbaar om te beslissen.
Onderaan heb je knoppen om bv direct je selectie van "overtollige" te verwijderen.
Reacties uitgeschakeld

voor FSlint