De nieuwe openSUSE 11.3 met KDE 4.4.4 is eerst bij Duitse tijdschriften te vinden (als Linux Magazine en Linux Intern), maar natuurlijk ook te downloaden van de site. De Linux KDE desktop, start direct van de cd/dvd, en van daaruit kan je ook een installatie doen op je harde schijf.

Bij de start daarvan op een netbookje (Aspire One 1G/160G) kwam de melding dat het wat weinig geheugen was om tegelijk te installeren en verder te werken, maar de installatie verliep zelf verder normaal. Na een upgrade heb je bv Firefox 3.6. Eventueel voeg je wat softwarebronnen toe, bv packman:
[packman]
baseurl=http://ftp.gwdg.de/pub/linux/misc/packman/suse/factory/
Hoewel het een Duits tijdschrift was en de installatie in het Duits start, kan je toch als taal Nederlands kiezen: de installatieprocedure en het einddoel passen zich aan.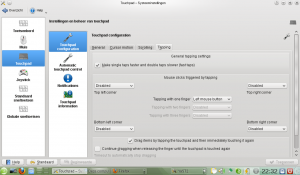 Helaas kan ik op het touchpad niet met de vinger tikken om een muisklik te krijgen; ik moet steeds op het knopje ernaast drukken om te "klikken". Ik vind niet onmiddellijk mijn weg naar het venster met de instellingen van de desktop, "desktop settings" of zo, maar eigenlijk kijk ik er gewoon voorbij; het zit rechtstreeks onder het menu als "systeeminstellingen" en opent "Personal Settings".
Daar zoek je naar toetsenbord en muisinstellingen, touchpad, en dan wordt de tekst terug Engels:
Touchpad configuration,
tabblad Tapping,
Mouse clicks triggerd by tapping (staat in het midden): aktiveren door "Tapping with one finger " = "Left mouse button" te kiezen in het drop down menu (stond oorspronkelijk af: "disabled")
Toepassen.
Reacties uitgeschakeld

voor Touchpad niet kapot in openSUSE 11.3