Uitgevoerd in LibreOffice 3.4.2
Van MySQL …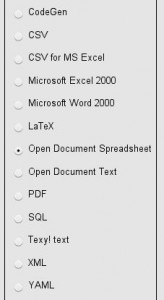 MySQL met phpMyAdmin laat toe om een export te doen van de database. Als je meer tabellen gebruikt en die moet combineren om aan de nodige adresgegevens te komen, stel je daarvoor het SQL-statement op (waarbij phpMyAdmin ook veel hulp biedt):

Het resultaat stuur je naar een "file" in phpMyAdmin met "Export".


Na "Save As File" heb je nogal wat keuze:
Neem bv OpenDocument Spreadsheet, die kan gemakkelijk gelezen worden als database in LibreOffice (en/of StarOffice – OpenOffice).
Handig is ook om de eerste rij te laten voorzien van de veldnamen, zodat je de gegevens kan terugvinden/benoemen:
Options: Put fields names in the first row
.. via LibreOffice …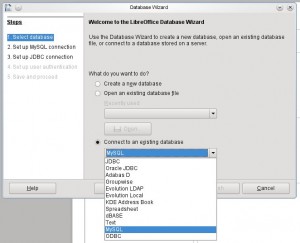 LibreOffice: Menu "File, New Database" opent de database Wizard, die je gewoon kan volgen; kies het bestand dat je voorheen bewaard hebt uit phpMyAdmin/MySQL.
Kies als type "spreadsheet" (omdat we hierboven de export naar ods gemaakt hebben – je ziet al dat er nog veel andere mogelijkheden zijn).
Bevestig database "registreren" in Libre-Office; dat maakt de gegevens toegankelijk vanuit tekstverwerker, rekenblad enz.
… naar Labels.
LibreOffice: File, new, labels
Tab Labels,
– Format: zoek wat past, bv "sheet", Brand AveryA4, Type J8360 Adress (3×7)
– Database: select uit drop-down wat je voorheen registreerde (bv customers2011)
– Table: cus
– Database field … hier kies je wat op het label komt en in welke lijn; ja kan dus twee gegevens op dezelfde lijn zetten zoals postcode en gemeente.
x Address, en vul in (pijl = stuur naar venster van adres):
name (pijl) + enter
street (pijl) + enter
zip(pijl) en city (pijl) + enter
Options laten (op entire page)
Klaar? De "New Document" knop is de uitgang / doorgang: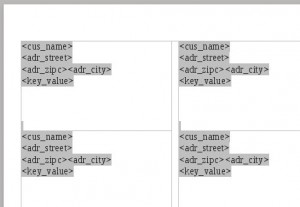 Dan krijg je een overzicht van de labels met grijze velden met de veldnaam.
"Bewaar en/of print het label document."
Print:
Do you want to print a form letter? Yes.
Preset staat: to "Printer"
Let goed op welke printer geselecteerd is als je meer printers hebt (een pak labels in de kleurenprinter ipv op de laserprinter?)
Print bv eerst op gewoon papier (kies voor afdrukken van enkel het 1e blad in plaats van "All")
Dan kan je nazien of de marges goed staan en de tekst op de labels komt en niet over de rand. Marges kan je gemakkelijk bijregelen bij Format, Page, Margins.
Libre Office heeft zijn eigen (ENG) online help pagina's, bv deze over etiketten printen
Reacties uitgeschakeld

voor Adres-etiketten uit MySQL via LibreOffice (ODF)