Ik wil een eigen startende usb-stick maken om andere instellingen uit te proberen dan het huidig (intern) geïnstalleerde systeem op de Linutop2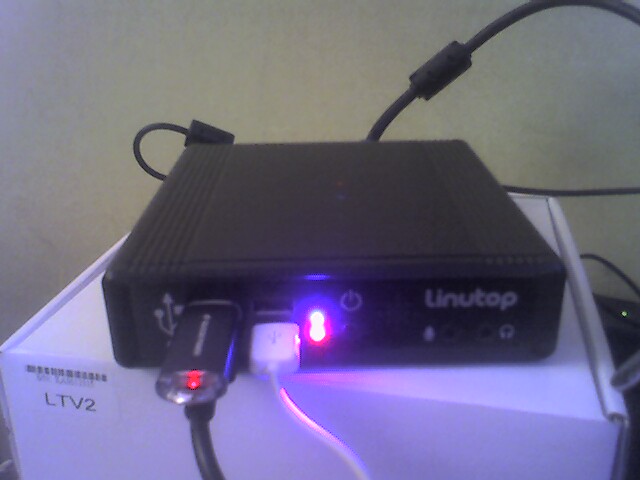 Ik start van een redelijk ongebruikte linutop 2 en een verse USB-stick van 1 Gb ("INTENSO" staat erop) .
Ik volg de instructies op de Linutop site die een nieuw systeem afhaalt van hun images site:
sudo lusm-web -d /dev/sda http://images.linutop.eu/current2
Hieronder een log …
wat bij mij niet lijkt te werken:
(EE): No USB device found. Please plug it in and restart the script
Maar na een tekstbestand gemaakt te hebben op de key ben ik wel degelijk zeker dat hij er is.
Het menu:
Applications/System/Partition Editor
start GParted en die vertelt mij echter meer:
De usb stick blijkt gemount als /dev/sdc, dus ik pas het commando aan naar:
sudo lusm-web -d /dev/sdc http://images.linutop.eu/current2
en dan krijg ik:
The device is already mounted; would you like to umount it? …. etc
yes
You are about to erase the contents of your USB device … etc
yes
Creating the partitions …
Downloading the livefs …
…
Uncompressing the livefs …
Downloading the system. Please wait, it may be long …
Dat duurt inderdaad even 0:15 … 0.35
Daarna wordt nog de checksum afgehaald en
Verifying md5 sums… Success.
…
You can safely use your new USB key.
Applicatons/Quit/Restart
Loading vmlinuz…
deze keer van de usb-stick.
Reacties uitgeschakeld

voor Linutop2 + eigen boot-usb-stick