Uitval
Er zitten irritante "dropouts" in de door VLC media player gespeelde muziekstukjes op de Linutop.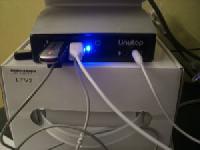 Ik merkte het bij het spelen van .ogg muziekbestanden van een externe usb-harde schijf. Ik stelde me vragen over de usb-interface of de capaciteit van de processor tov de sterker (dan mp3) gecomprimmeerde ogg bestanden. Ter vergelijking zocht ik een stukje muziek van een ander bestandsformaat, en dat speelt vanaf het eigen medium (hetzelde van het systeem).
Maar zelfs de als demo aanwezige klassieke muziek laat duidelijk horen dat er stukjes "missen". Bovendien komt dit overeen met ervaring van de Linutop1; daar kan men nog denken dat het mindere geheugen en de mindere processor oorzaak zijn. Kan ook deze Linutop geen muziekbestanden vloeiend lezen van een medium en omzetten naar muziek op de audio-uitgang?
VLC player proberen te tunen leverde ook niets op, er waren geen "zware" opties aangezet die konden uitgeschakeld worden.
Of is het op te lossen door andere software, een andere muziekspeler bv? Ik dacht even aan Puppy Linux.
Synaptic package manager geeft veel keuze:
– mplayer? maar is eigenlijk ook een videoplayer dus niet "licht"
– amarok? vrij zwaar veronderstel ik
– xfmedia? deze probeer ik; het is immers xfce waarop Linutop draait.
XFmedia
Er worden een aantal (22 – vooral "xine") paketten mee aangeduid (afhankelijk van). Apply.
De bestanden komen van het ubuntu/hardy archief:
Successfully applied all changes ..
Sluit Synaptic.
Menu media bevat nu ook Xfmedia.
Ik download "Sextoy – In The Middle Of Nowhere" van Electrobel als test-track; dit is mp3 formaat.
Speelt in VLC met eerste hapering na zo'n 20 seconden, tweede na 1:10.
Speelt in XFmedia zonder haperen 🙂
Als ik debussy – Arabesque No.1 (de bij Linutop geleverde demo-track) speel, is ook die zonder haperingen te beluisteren.
Morgen hang ik de externe USB-disk eraan …. Audio-player probleem opgelost? (wordt vervolgd)
Reacties uitgeschakeld

voor Linutop2 als audio-speler: haperend?