Mijn KDE desktop is om onbekende reden geblokkeerd na een nachtje blijven aanstaan. Systeem: OpenSuse 11.0 + KDE3.5
muis werkt nog, scherm blijft zwart, toetsenbord schijnt geen reaktie te veroorzaken
CTRL-ATL-BS om grafische omgeving te herstarten (is nog geldig op deze oudere versie dacht ik) werkt niet.
CTRL-ALT-F1 of CTRL-ALT-F2 enz… om een terminal scherm te krijgen: werkt niet.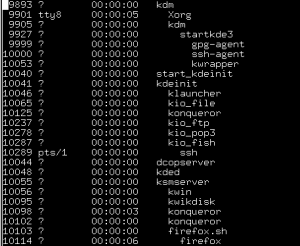 De enige mogelijkheid die ik nog zie is vanop afstand in loggen. Vanop een andere Linux (of OS-X, ..), in een terminalvenster: ping frozenbox.mynetwork.local (of het ip-adres, bv ping 192.168.1.123): als er nog reaktie komt kan ingelogd worden; ssh cybrarian@frozenbox.mynetwork.local.
Ik kijk rond met ps -AH om te zien of ik de oorzaak van het probleem misschien kan identificeren (zoals hier de screensaver bv). Ik kijk naar het procesnummer van mogelijke verdachten. Als het niet lukt met kill -sigkill 2558 de boosdoener te sluiten, kan ik nog altijd de hele grafische sessie sluiten: (als root; dus eerst su en wachtwoord geven)

init 5
Het scherm beweegt … de grafische desktop herstart, het scherm wordt terug opgebouwd; de programma's die openstonden komen terug op het scherm; ik kan verderwerken.
ps:
Ik stel wel vast dat dit grafisch scherm bereikbaar is met CTRL-ALT-F8; CTRL-ALT-F7 lijkt nog het "vasthangend" scherm te zijn; en ook de sessies oproepen op CTRL-ALT-F1 enz. gaat niet; ik krijg daar een beeld dat ook sterk aan die hangende desktop doet denken. In ps -AH komt tty7 niet voor; mijn nieuwe sessie zit op tty8.
Reacties uitgeschakeld

voor Onbekende blokkeert grafische desktop