Virtual Machine van de gebruiker start niet meer na een kernel upgrade naar 3.1.10-1.9-desktop in een OpenSUSE 12.1 desktop met een VMWare player.
Foutmelding:


Before you can run VMware, several modules must be compiled and loaded into the running kernel
Er komt nog een andere optie, maar die had ik weggeklikt; als je die daarentegen bevestigt "doet hij iets" maar dat schijnt fout te lopen en het venster klapt dicht.
Zo opgelost:

Log in als root en start de grafische desktop, hier KDE; soms zal je bij het inloggen ineens de root user kunnen kiezen of invullen.
Start hier VMWare player; je krijgt dezelfde foutmelding.
De optie die aangeboden wordt uitvoeren. Blijkbaar lukt dat wel met de rechten van root.
VMware start daarna.
Log uit, log terug in als de gewone gebruiker.
Start de Virtuele Machine; werkt terug.

Dit is maar een log van wat gebeurde in deze situatie, geen garantie voor toepasbaarheid!

.
Waarom hier geen VMWare logo of illustratie staat.

"The Download VMware Player icon ("VMware Player icon") is provided for the sole purpose of providing link access to a VMware designated website for downloading the VMware Player software. By downloading or using Web icons, you agree to adhere to the following guidelines:" .. enz.


En ook geen link dus.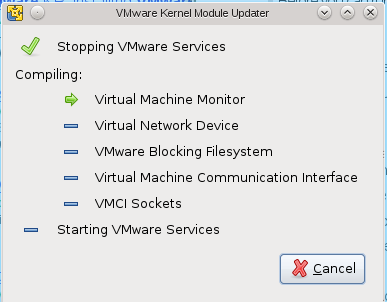 Update 20120828: Zelfde met update naar Linux 3.1.10-1.16-desktop i686.
Reacties uitgeschakeld

voor VMware start niet na kernel update