Firefox heeft een "private browsing mode", die bereikbaaar is uit het menu File, New Private Window.
Als het menu niet zichtbaar is even op ALT drukken, dan komt het tevoorschijn.
In deze "private browsing" toestand houdt Firefox geen "geschiedenis" bij van je surf-sessie. (private browsing beschermt op geen enkele manier tegen andere ge/misbruiken)
Worden dan niet bewaard:
de bezochte pagina's (anders herkenbaar als reeds bezocht),
ingetikte teksten in tekstvelden (loginnaam, wachtwoord, enz in invulvelden),
download geschiedenis (anders zichtbaar in downloads) – opgelet de gedownloade bestanden zelf wel; dus je moet die zelf verwijderen of elders bewaren bij download,
cookies (website bewaart data op jouw computer)
cache (maakt gebruik van een site sneller omdat stukken ervan lokaal bewaard worden)
Om snel of altijd in private browsing te starten, is het handig daarvoor een link op je desktop te maken.
Uitgaand van een bestaand icoon op de desktop dat Firefox start:
– kopieer het icoon (eigenlijk een link naar een desktop bestand)
– wijzig de naam om het onderscheid te maken tussen je twee firefoxen (bv even één hernoemen naar Firefox PB).
– rechtsklik om de eigenschappen van de desktop link te wijzigen
– kies tab Application
– verander het commando naar firefox -private
– indien gewenst ook het icoon veranderen: tab General, klik op het icoon, kies uit de beschikbare een ander icoon (bv gpg icoon gcr-gnupg), of kies zelf een andere beeld uit je bestandsysteem om te gebruiken.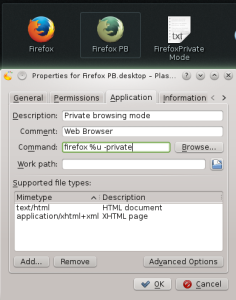 Eens in "private browsing" zie je voor de url van de website een klein schild-symbool op het moment dat Firefox aktief iets tegenhoudt (bv in Firefox v. 45.0).
Ref:
https://developer.mozilla.org/en-US/docs/Mozilla/Command_Line_Options
Link op desktop
Reacties uitgeschakeld

voor Discreet surfen met Firefox