Een geheimzinnig probleem duikt op: een Linux desktop, geïnstalleerd met OpenSuse Leap, lijkt onbetrouwbaar gedrag te vertonen: Hoewel alle schermbeveiliging (screen saver / power management) en stroombeheer aangepast is om de "screensaver" te vermijden, duikt die nog altijd op na 5 minuten.
Kijk goed … screen lock!
Dit gedrag wordt echter niet veroorzaakt door de "screensaver". Wel door "screen lock", het op slot zetten van je scherm als je even weg bent, om te vermijden dat derden erop werken. Dit heeft dus niets met stroom besparen of de levensduur van het scherm verlengen. En het zit dan ook in een andere instelling (anders dan vroeger leren we uit):
We recently changed the position. Now it's in "Desktop Behavior", it used to be in "Display and Monitor"
(https://forum.kde.org/viewtopic.php?f=289&t=125371 ook schermafbeeldingen)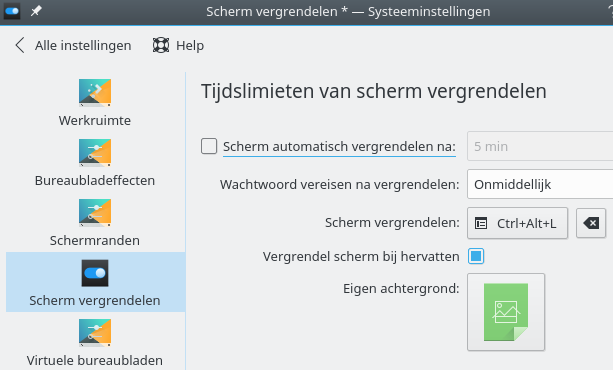 Dus: Instellingen KDE "System Settings", "Desktop behaviour", "Screen lock".
Daar kan je de tijd instellen, of het afzetten (vroegere versie tijd op 0).
NL-talig systeem :
KDE menu: Instellingen, Systeeminstellingen, Gedrag van Werkruimte, scherm vergrendelen.
Uitvinken.
Bij sluiten "Toepassen" kiezen.
Reacties uitgeschakeld

voor Screensaver wachtwoord user/sessie (scherm vergrendelen)