Nu de MySQL server een password heeft moet phpMyAdmin natuurlijk ook ingesteld worden met een password. Dat kan op verschillende manieren (link), waaronder het zelf maken van een config.inc.php file. Maar phpMyAdmin geeft zelf de gemakkelijkste manier aan: met een vriendelijk setup script dat klikbaar is op de pagina met de foutmelding van MySQL.
Welcome to phpMyAdmin 2.8.0.3

Probably reason of this is that you did not create configuration file. You might want to use setup script to create one.
Helaas, de pagina onder die link lijkt niet te bestaan!
De voorbeeld config file blijkt bovendien ook niet te vinden config.sample.inc.php.
Dat wordt bevestigd door freshmeat:
Version 2.8.2.3 broke the setup script. This has been fixed.
Je kan een nieuwere versie afhalen en installeren, of ergens alleen de map met de scripts te pakken te krijgen en in je phpMyAdmin directory te kopieren.
Welcome
You want to configure phpMyAdmin using web interface. Please note that this only allows basic setup, please read documentation to see full description of all configuration directives.
Can not load or save configuration
Please create web server writable folder config in phpMyAdmin toplevel directory as described in documentation. Otherwise you will be only able to download or display it.
Not secure connection
You are not using secure connection, all data (including sensitive, like passwords) are transfered unencrypted! If your server is also configured to accept HTTPS request follow this link to use secure connection.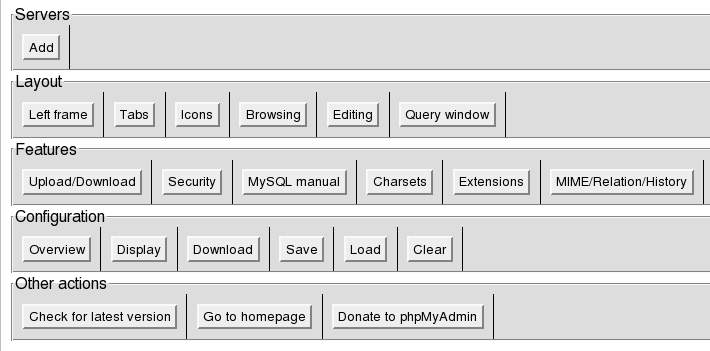 Reacties uitgeschakeld

voor phpMyAdmin Setup