Op afstand een programma draaien dat je niet geïnstalleerd hebt staan? Vanop een ander-dan-Linux-systeem toch een "X" sessie starten op je Linux-PC?
Op afstand, vanop je eigen pc, krijg je een venster waarin een werkelijke X-sessie opstart op de "server". Je logt in alsof je ter plaatse een sessie opent. Je ondervindt geen storende vertraging als je het over het lokale netwerk draait, blijkbaar zuinig in keuze "wat" het doorstuurt, en goede compressie. Handige toepassing gezien van NX server en clients vanop Linux, waarbij de applicatie niet overal lokaal geinstalleerd moet worden; het gemak van een web-applicatie voor een niet-web applicatie. Allemaal op een Fedora Core, maar het bestaat voor verschillende systemen.


Te installeren:
– gebruikt ssh, dus zeker overal ssh (is zowat standaard op Linux systemen) en
– een server-deel, een client deel.
Zowel server als clients bestaan in commerciële en GPL versies.
Install op KUbuntu 7.10 (log): zie verder.
Links:
KUbuntu:
"How to install NX server and client under Ubuntu/Kubuntu Linux (revised)", Engelstalige blog
Niet gebruikt:
Red Hat: http://linuxgazette.net/135/knaggs.html
Suse: http://en.opensuse.org/FreeNX_Server_HOWTO
Install log op KUbuntu 7.10:
Vertrek: van een KUbuntu 7.10 zonder eerdere NX installatie.
Installeer ssh en libstdc++2.10-glibc2.2. al ok veronderstel ik.
Download :
http://www.nomachine.com/download-package.php?Prod_Id=5: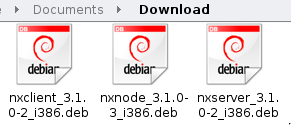 Client
Node
Server
(naar standaard map: "Download" bv)
Sluit Adept installer indien open.
Open Konqueror/Dolphin, klik op NX CLient, install
Na "All dependencies are satisfied" melding, klik Install…
(meer…)
Reacties uitgeschakeld

voor NX Server, client: Netwerk + X11 = NX