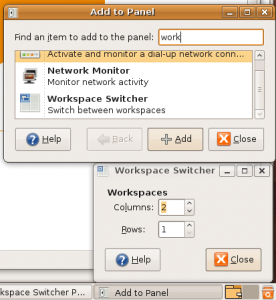 Een KDE gebruiker die in Gnome terecht komt, hier bv Ubuntu 8.10, gaat misschien op zoek naar meer desktops.
Waarschijnlijk ga je zoeken bij System, Preferences, of System, Administration (en niet vinden).
Desktops of 'Workspaces' zijn bereikbaar via de takenbalk onderaan (die 'Panel' heet).
Ofwel staat daar al een 'desktop' icoon, zoniet moet je het aktiveren:
rechtsklik op de balk onderaan
"add to panel"
zoek "workspace"
toevoegen, bevestigen (door te sluiten).
Rechtsklikken op het icoon geeft de mogelijkheid tot "workspace switcher" configuratie; van standaard 2 kan je naar 4 zetten bv.
upd 27/10:
Met CTRL-ALT -> kan je de schermen naar rechts doorschuiven (ctrl alt pijlt-rechts), omgekeerd links.
Reacties uitgeschakeld

voor Meer desktops in Gnome