RecordMyDesktop; een eenvoudige duidelijke naam. Installeren (op opensuse: yast, software installeren, zoek recordmydesktop) of zie de site http://recordmydesktop.sourceforge.net/about.php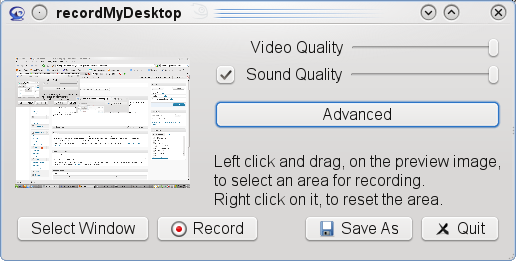 Na installatie komt het programma op openSuse 11.2 in het menu "recently installed" te staan, en is daar gemakkelijk te starten.
Het scherm toont een mini-versie van je beeldscherm. In de takenbalk rechts onderaan is een knopje bijgekomen met de opnameknop.


(die met de rode bol; knop bestaat ook in het voormelde venster)
Standaard wordt opgenomen naar out.ogv in je gebruikersmap (home directory). "ogv" is een vrije "ogg" vorm.
Af te spelen door klikken op het bestand in die map; start bij mij "Kafeine" om het filmpje af te spelen, maar lukt evengoed in VLC media player, amarok (alleen geluid), enz.
Blijft nog de vraag hoe je zo'n filmpje kan "editen" of monteren onder Linux ..
Reacties uitgeschakeld

voor Beeldschermfilmpje (KDE): recordMyDesktop