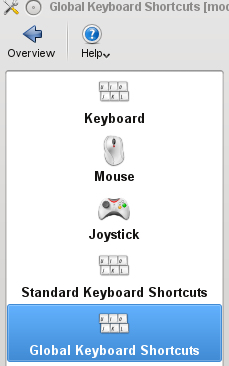 In KDE krijg je 4 virtuele desktops, maar voor een intensieve gebruiker is dat soms niet genoeg; je kan desktops bijmaken door rechtsklik op de "pager" (het overzicht van de 4 desktops onderaan in de menubalk).
Rechtsklik, Configure Desktops, Number of Desktops: 4
Wijzig naar 6 bv. Maar dan is het stomme dat de sneltoetsen om naar de desktop te schakelen, er hier niet bij staan. Voor de eerste vier is dat standaard CTRL-F1, CTRL-F2, CTRL-F3 en CTRL-F4.
En de plek waar je die vroeger (in KDE 3.x) kon vinden bestaat niet meer.
Nu ga je via:
Menu, Personal Settings (Configure Desktop), Tab General, Computer Administration: Keyboard & Mouse, Global Keyboard Shortcuts.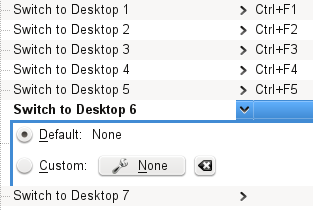 Kies bovenaan in de lijst "KWin" om de juiste akties weer te geven.
Daar vind je midden in de lijst met toetscombinaties die voor het omschakelen naar desktops; ze hebben sneltoetsen of shortcuts toegewezen van CTRL-F1 tot CTRL-F4.
Klik achter de Desktop5 vermelding, klik in het niet toegewezen veld (Custom: "None"), en voer de toestscombinatie uit die je wil toewijzen, bv CTRL-F5. Die wordt nu vermeld en na bewaren werkt ze ook zo.
Een voorbeeld van de eigen indeling van Desktops: 1 File, 2 www, 3 Console, 4 Edit, 5 Work, 6 Mail.
Gebruikt: OpenSUSE 11.2, KDE versie 4.x (4.3.5)
---
Update 2022:
Veranderd in KDE5
Reacties uitgeschakeld

voor Bijgemaakte Desktop 5: hoe omschakelen met CTRL-F5