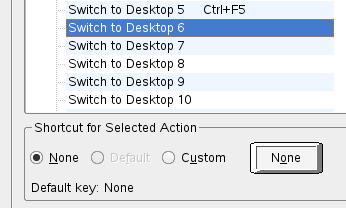 In openSuse 10.3+KDE 3.5 stelde ik vast dat ik niet meer naar de bijgemaakte desktops 5 en 6 kon schakelen met de toetscombinatie Ctrl F5 of Ctrl F6, terwijl die combinatie voor desktop 1 tot 4 wel werkt.
Onderaan in de knoppenbalk, boven de weergave van desktop 1-4: Rechtsklik, Configure Desktops laat KDE wel toe desktops bij te maken of te verwijderen, maar zegt niets over de sneltoetsen. In vorige versies werkten die automatisch.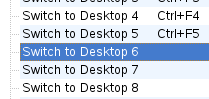 In het Kde-menu:
Personal Settings,
Regional & accessibility,
Keyboard Shortcuts,
tab Shortcut Sequences zie je, iets naar onder
Desktop Switching met de bijhorende "shortcut" of toetsencombinatie.
Kies bv Desktop 6, dan krijg je onderaan Shorcut for Selected Action die op None staat, en je kan verzetten naar Custom.
Dan krijg je een venster dat wacht op de toetsencombinatie die je wil gebruiken. Let erop dat je op dat moment niet overschakelt naar elders, bv met alt-tab, want dan wordt dat geregistreerd als toetsencombinatie hiervoor. Als de combinatie al bestaat met je wel een bevestigen.
Terwijl je de toetsen Ctrl en F6 indrukt, krijg je één voor één feedback:


Update 10/9/2010 : in KDE 4.x
Reacties uitgeschakeld

voor Verdwenen Desktop 5 en 6 sneltoetsen