Hoe zie ik of een programma draait?

Deze week kreeg ik een vage kreet om hulp in verband met "internet op Aspire One / Linpus". Als ik het goed begrepen heb werkt Firefox om een of andere reden niet meer.

Ik zie Firefox niet nadat ik erop klikte. Is het wel echt gestart?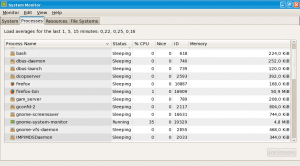 Check of Firefox draait: druk kort CTRL-ALT-DEL. Je krijgt "System Monitor" met hardware en geheugeninformatie.
Ga naar het tweede tabblad "Processes". Klik op de titel van de 1e kolom 'Process Name' om ze alfabetisch te sorteren. Kijk bij de "f" naar firefox, firefox-bin. Staan die erbij? Dan draait Firefox op dit moment.
Stop firefox: Rechts-klik en kies "end process" (of "stop process" of "kill process" als het niet direkt lukt). Doe dit voor alle "firefoxen" die je in het lijstje vindt.
Sluit System Monitor en probeer terug de browser te starten met het icoon.
Als dit niet helpt is er misschien iets mis met het icoon om firefox te starten …
Reacties uitgeschakeld

voor Linpus probleemverhelping: Draait Firefox?