Is er een andere manier om Firefox te starten dan het icoon op de desktop?
Als er iets fout is met de manier om Firefox te starten, bv de link naar het programma die bij het desktop icoon hoort, kan je het programma rechtstreeks starten. Je moet wel de naam kennen.
Je staat in het startscherm van Linpus, met de 4 groepen van iconen, blauw, rood, geel en groene achtergronden. Druk ALT-F2. Er komt een klein venster met "Run program". Tik daar "firefox" en enter of klik "Run".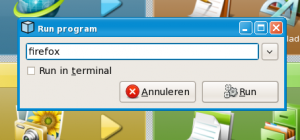 Firefox start op (als alles goed gaat).
Als Firefox niet (zichtbaar) start is er misschien iets mis met het programma of zijn plugins. Check of Firefox niet onzichtbaar gestart is (ctrl-alt-del, kijk in de lijst van de processen).
Reacties uitgeschakeld

voor Linpus probleemverhelping: werkt het icoon om Firefox te starten?