Gambas is a een vrije Integrated Development Environment (IDE) voor Linux, gebaseerd op een Basic interpreter. De toepassing is snelle ontwikkeling (Rapid Application Development) van programma's of proefmodellen voor een programma. Gambas gebruikt een Basic taal met object-uitbreidingen waarvan de schrijfwijze vertrouwd zal overkomen bij ontwikkelaars die al eens Visual Basic gebruikten.
Is het een mogelijke vervanging voor Visual Foxpro? Gambas gebruikt andere databanken als MySQL, PostgreSQL, enz.
Blijft natuurlijk de eeuwige discussie of het een goed idee is om (tijd) te investeren in de "basic" taal… (maar Gambas is not VB)
Een van de voordelen van Gambas is dat het de belangrijke elementen bevat in 1 pakket:
programmeertaal
IDE (programmeeromgeving)
Interface objects toolkit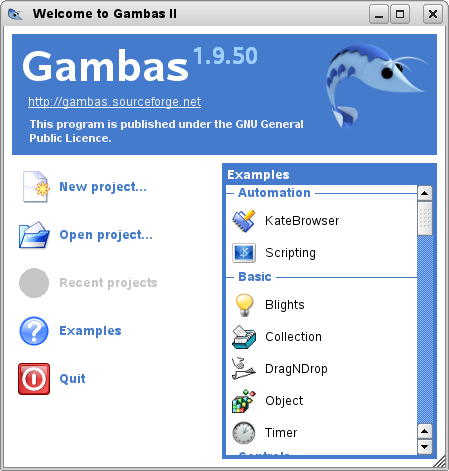 Gambas installeren
Gambas gebruikt heel wat andere paketten en is dan ook afhankelijk van de aanwezigheid daarvan; installeer ze eerst (zie lijst).
De homepage van gambas is (http://gambas.sourceforge.net/), waar je de laatste versie kan downloaden. Maar er zijn ook distributies die een versie inbegrepen hebben.
Enkele links om te beginnen:
Een Engelstalige presentatie voor Linux Bangalore 2004 vind je hier in pdf.
Er zijn mailing lists en forums beschikbaar, en vertalingen.
Ontwikkelen van programma's in Gambas
Het duurt maar een paar minuten om een testprogramma te maken in Gambas. De GUI kan je snel opzetten door gebruik van form widgets als textvelden, werkknoppen in een ontwerpomgeving.
"Getting Started" handleidingen (meestal Engelstalig voor Gambas 1):
– "Getting Started with GAMBAS" in OpenOffice formaat (download: .odt ) van de gambas.sourceforge.net site.
– "Gambas beginners guide", 2005, boek 364 p., in pdf-readonly niet afdrukbaar (download: pdf ) en de voorbeeldbestanden om te installeren (download: tgz)
– En voor wie Portugees kent: "Gambas – Programmación Visual con Software Libre", boek 9 hoofdstukken, over Gambas versie 1.9. (download: per hoofdstuk, pdf 1, pdf 2 , pdf 3, pdf 4, pdf 5, pdf 6, pdf 7, pdf 8, pdf 9)
En hier bij ons vind je :
– Beginnen met GAMBAS, onze vertaling van "Getting started with Gambas" (download: Open Document Format ODF).
– variabele namen en afkortingen conventie-overzicht

vb van een install (log) (meer…)
Reacties uitgeschakeld

voor Gambas RAD IDE: mag het iets basic zijn?