Als er problemen zijn met Firefox ( Firefox 2 op Linpus-dus in dit geval), is het mogelijk veroorzaakt door een plugin, Google toolbar, enz. Die kan er zelfs voor zorgen dat Firefox niet meer start. Het komt er dus op aan om in Firefox de plugin, of als je niet weet welke – alle plugins- uit te schakelen. Alleen is dat moeilijk als je Firefox niet kan starten.
Gelukkig kan Firefox op een "voorzichtige" manier gestart worden, namelijk zonder de plugins te gebruiken. Alleen is daar geen icoon voor om op te klikken; kan je wel een commando gebruiken voor het opstarten: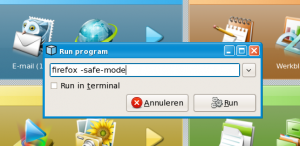 ALT-F2 (je krijgt venster zoals in afbeelding)
Tik: "firefox -safe-mode"

(let op de spatie)

Je krijgt een keuzevenster met de melding: "Firefox is now running in Safe mode, .." enz.
Eronder "Continue in Safe Mode": deze knop zal tonen of Firefox op zich nog werkt. Firefox zal starten zonder alle extra hulp-programma's.
Is dat zo, dan werkt firefox wel maar is een plugin waarschijnlijk de oorzaak van een fout. Dan kan je daarna eens terug die "Safe Mode" starten, en bv "Disable all add-ons" kiezen.
De andere mogelijkheden verwijderen allerlei persoonlijke instellingen, maar als daar mogelijk de oorzaak ligt kan je die ook proberen natuurlijk.
Als je weet welke plugin het probleem is kan je in Firefox menu "Tools", "Add-ons", ze per stuk uitschakelen. Als je in safe mode zit krijg je hier de melding "All add-ons have been disabled by safe mode"
De volgende keer start je firefox terug gewoon op met het logo op de desktop.
Meer detail: zie mozillazine "Firefox hangs"
(Engels).
Zie ook:
– Draait Firefox?
– Werkt het icoon om Firefox te starten?
Reacties uitgeschakeld

voor Linpus probleemverhelping: Firefox voorzichtig starten