Harde schijf toegevoegd in systeem (IDE aansluiting) wordt niet, zoals een aangesloten externe USB-schijf, zichtbaar op de desktop.
Ze is wel zichtbaar in "my Computer" onder "Disk Information" als drie "harde schijven", eigenlijk partities :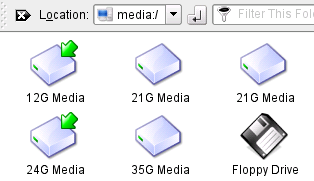 De twee partities met groene pijl (=gemount) zijn die van het draaiende systeem.
De extra schijf, of de partities op de schijf, zijn niet gemount (en mounten kan ook niet door erop te klikken. Ingelogd als root kan je dat wel).
Kijk via het hardwarebeheer; bv Yast, System, partitioner:

In het voorbeeld bevat de extra aangesloten schijf met een capaciteit van 80 GB drie partities, die Linux-geformatteerd zijn; hier een start-klaar Linux systeem (mogelijk diende de schijf voorheen als enige HD in een ander systeem).
sda2 is de "extended" partitie die 3, 4, en 5 bevat; sda5 is de swap partitie.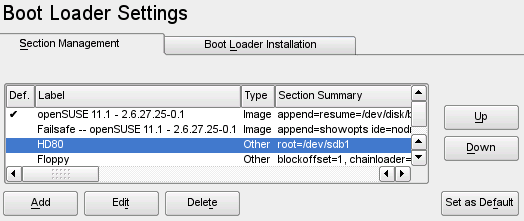 De instellingen om de computer te starten van dat bestaande systeem zitten in de "bootloader"; meestal GRUB. Met een grub-editor of andere tool kan die opstartbeheerder aangepast worden. Bv Yast, System, Boot loader geeft toegang tot het menu. Toevoegen, menukeuze een naam geven, harde schijf kiezen, en voor alle veiligheid de standaardkeuze toch maar op de andere schijf houden (moest die mee veranderd zijn).
De illustraties zijn gemaakt op een openSUSE 11.1 met KDE 3.5 desktop.
Opgelet: GRUB gegevens van HD80 zijn "rommel", niets werkend.
Reacties uitgeschakeld

voor Harde schijf toevoegen